VACANCIES
Penchem Job Vacancy
Penchem Job Vacancy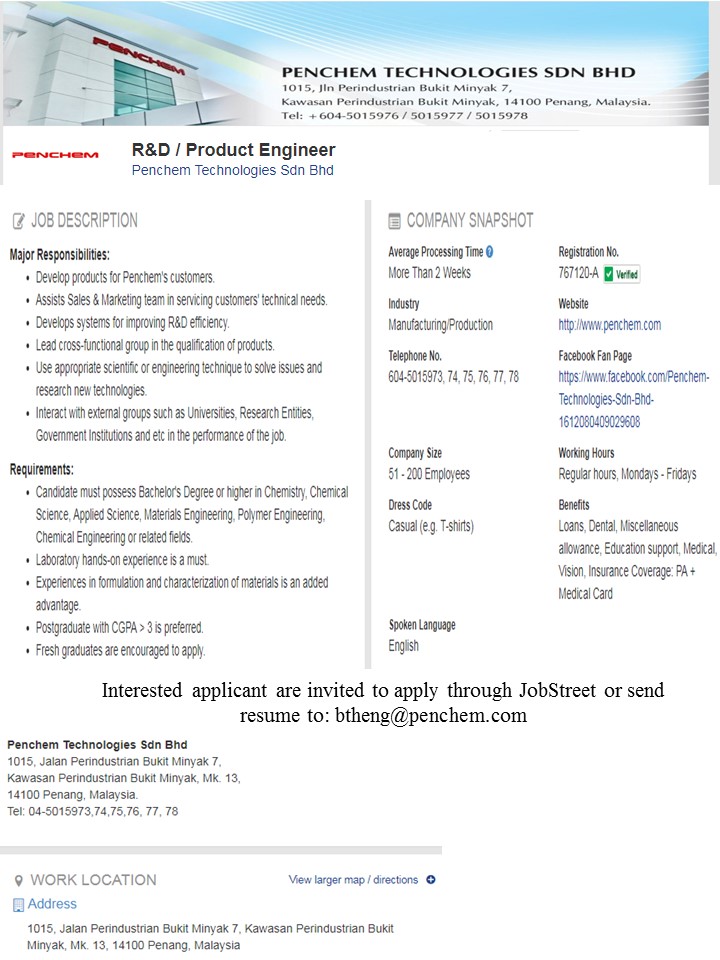 ---
Vacancy Material Process Integration Engineers
Vacancy Material Process Integration Engineers
Hiring managers, for Process Integration Engineer immediate vacancy in Infineon Technologies (Kulim) Sdn. Bhd)
The field we are working on is semiconductor wafer nano-fabrication on MOSFET , IGBT-diode, Integrated circuit , MEMS design.
Field targeting on chemistry related will be , (preferably on Post graduate degree MSc & PhD in more preferred)
1) Polymer (Polyimide, Epoxy, related dielectric)
2) Metallization – Plasma sputtering , physical vapour deposition .
3) Nanocomposite synthesis & characterization on semiconductor material related.
4) Physical and Chemical Analytical instrumentation , e.g SEM, EDX, Auger , FIB , ICPOOS, FTIR.
Contact Person:-
Dr. RunHong Toh
Infineon Technologies (Kulim) Sdn. Bhd.
Tel: +60 4 427 8634
Cell: +60137707318
Fax: +60442784420
---